Calls for open minded and welcoming approach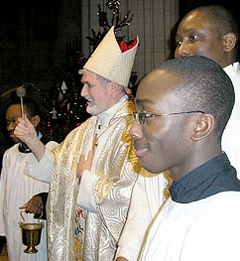 14th September 2010: Bishop Patrick Lynch, chair of the Office for Migration Policy at the Catholic Bishops' Conference of England and Wales, has asserted migrants from many parts of the world add vibrancy to the parishes.
He has asserted in Britain over the last few years, there has been a transformation of the social character of the dioceses in England and Wales. It sometimes is called 'the Changing Face of Britain'.
Across the country in all dioceses, but especially in large cities, they have migrants from many parts of the world adding vibrancy to our parishes.
In the 'Mission of the Church to Migrants' the Bishops of England and Wales have considered this new social reality and have called for a more visible culture of welcome, hospitality and solidarity with migrants.
He has added the Church calls "us to be open minded and welcoming to migrants and refugees, to listen to their stories to celebrate the values they bring to our communities and to stand in solidarity with them".