Migrant return scheme to be abolished by UKBA
26th September 2011: A proposal permitting helpless people to return to their country of origin is to be put to an end by the government.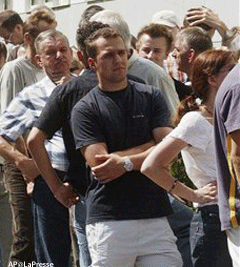 The travel aid proposal was introduced almost 40 years ago to help immigrants who have obtained British citizenship return home if they had problems integrating or finding work.
The scheme had of late helped individuals to return to Iraq and Afghanistan. The campaigners calculate that it had saved £20m over the past decade in state benefit, housing and health provision.
The decision to close the scheme means that some individuals seeking to leave the UK will no longer be able to do so.
Another concern was that the funding available for supporting a person's re-integration has already been cut, which has an impact on whether it is suitable for people to return.
UKBA has also capped the scheme at £100,000 since 2004, so many individuals who wish to return home have been unable to do so.
According to the Guardian, Andy Elvin of Children and Families Across Borders (CFAB), which runs the initiative on behalf of the UK Borders Agency, said it was absurd that the government spent millions deporting failed asylum seekers, but had chosen to abandon help for those on benefits who were keen to go home.
Allowing a single person to leave can save more than £500,000 in benefits over their lifetime. A scrutiny of official figures has shown, with the result that every pound spent on the scheme generates at least £4 in savings.
Elvin said the plan would save a further £20m over the next 10 years. The annual budget for the scheme stands at £100,000, which includes CFAB's £56,000 administration charge, a fee unchanged for 11 years.
Elvin added the government was cutting essential services with one hand and closing schemes that save the country money with the other. The idiocy of this decision was surprising. The problem seems to be that the Home Office pay for the scheme and other departments make the savings.
The Home Office is not sorry, saying it wanted to concentrate on targeting illegal immigration and that it intended to axe the assistance by April 2012.