Hundreds of students are expected to sleep out in over 25 areas around the country.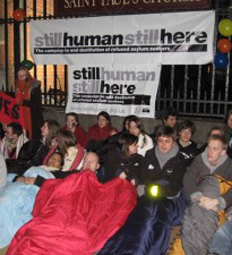 22 February 2001. Students supporting the rights of refugees are getting together all over the UK to raise awareness of the destitution of homeless asylum seekers.
The 'STAR & Amnesty Sleepouts to End Destitution' are a national series of events around the country between 22 and 27 February, organised by Student Action for Refugees (STAR) and 'Amnesty UK'.
Student activists will be sleeping outside for one night to draw attention to the scandal of destitution experienced by thousands in the UK, people fleeing war and torture.
"We're sleeping out tonight to raise awareness of refused asylum seekers who are destitute in the UK as they cannot return home or are too scared to leave the UK. We think the government should allow this small group to work and support themselves, until they're granted protection here or it's safe for them to return home," is the message activists are invited to get across to fellow students.

Hundreds of students are expected to sleep out in over 25 areas around the country.
Tonight is the night in Kent and Essex, but get more details on the sleepouts – calendar, maps and guides ('sleepout action pack') on the STAR website or on Facebook.
The Sleepouts are part of a wider campaign, 'Still Human, Still Here', sponsored by a coalition of more than 40 organisations that are campaigning to end the destitution of thousands of refused asylum seekers in the UK.
"People fleeing war and torture are destitute and sleeping on the streets in Britain. Everyone has the right to food and shelter and people seeking protection in the UK should not be forced into poverty and homelessness," is the Campaign's statement.
The campaign call for an end to destitution and urges the Government to:
• Grant asylum seekers permission to work if their case has not been resolved within six months or they have been refused, but temporarily cannot be returned through no fault of their own (this is the priority asked for by the National Student Sleepouts);
• Improve decision-making and ensure that all those in need of protection receive it;
• Provide asylum seekers who would otherwise be destitute with sufficient support so that they can meet their essential living needs until they are returned to their country of origin or are given permission to stay in the UK;
• Provide free access to healthcare for all asylum seekers while they are in the UK.