NUS: "Lobby your MP about student visas. It's just a matter of few clicks!"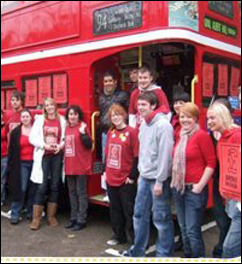 18 March 2011. "Guys, time is running out and I urge you all to lobby your MP for the last time to STOP these draconian changes."
NUS (National Union of Students), a confederation of 600 students' unions representing the interests of more than seven million students, is campaigning to bring all students to take their stand against the highly contentious changes to student immigration announced by Home Office.
On 1 February 2011 Immigration Minister Damian Green outlined a set of proposals to reform Tier 4 student visas. Proposals include closing the post-study work route, raising levels of English required to enter the UK, restricting courses offered below degree level and restricting the rights of the dependants of international students to work.
The foremost players in the education sector, including Universities UK, the UK Council for International Student Affairs, the National Union of Students, the Association of MBAs, the British Council, English UK and many others have come out with concern that the proposals would eventually deter genuine students from coming to the UK, with serious negative implications for the UK's economy and reputation.
"The proposals would harm international student education in the UK and will send the message that international students are not welcome here, when in fact the contribution that international students make to UK economy and culture are considerable," the NCU maintains.
"We must do all we can to stop these harmful proposals. Let your MP know that you care about the issue and ask them to apply pressure to UKBA and Damian Green while they consider how they will take the student immigration proposals forward."
To take up the Students' plea and let your MP know how you feel on the issue, click onto Lobby your MP about student visas.