Eagle: "Democracy is most effective when its representation reflects the community it serves"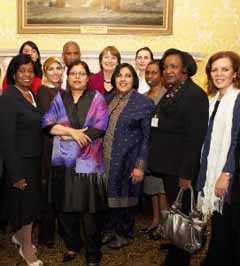 29 October 2009: Deputy Minister for Women and Equality Maria Eagle has launched the first national mentoring programme designed to increase the numbers of black, Asian and minority ethnic women (BAME) becoming local councillors.
BAME women are starkly under-represented in politics at every level. Local politics is often seen as a first step to national politics. BAME women account for less than one per cent of all local councillors in England, despite making up nearly five per cent of the population. To fully reflect society, the number of women BAME councillors would have to rise nearer to 1000.
The ground-breaking mentoring programme, commissioned by the Government Equalities Office and run by Operation Black Vote, will provide development and training to 60 BAME women in up to 30 local authorities with the aim of seeing these women take the next steps into public life.
For six months, the women will be mentored by members of the BAME Women Councillors Taskforce and a wider network of BAME women councillors and will spend at least four days shadowing a local councillor from within their local authority to gain first-hand insight into the position.
Ms. Eagle said: "Democracy is most effective when its representation reflects the community it serves. Black and Asian women are under-represented in local government. The first step towards addressing this is to engage and interest more women in running for these roles.
"The ongoing support for the mentoring programme will be a crucial first step for the many women who want to become involved in public life."
In addition to the mentoring programme, a further 50 women will undergo a community leadership course to learn more about the role of a local councillor.
The Taskforce engaged nearly 1100 high-calibre women through their BAME outreach programme in the past year.
The leadership programme and the community leadership course, to be run by Operation Black Vote and Solace Enterprises respectively, are a legacy of the Women Councillors Taskforce, which presented its final report to Harriet Harman QC, MP and Minister of Women and Equality, containing recommendations to further improve local representation of BAME women.
Ms. Hamira Khan is 30 years old and will be shadowing a councillor in Glasgow as part of the mentoring programme. Ms. Khan said: "I wish to inspire and encourage members of the BAME community to participate in our democratic system. There is an obvious under-representation of BAME people in the political arena, and they need people like me who are motivated to make a difference and inspire/encourage them to participate, give something back to their local community and achieve personal success."
Ms. Francine Fernandes, OBV's Head of Shadowing Schemes said: "Wasting so much talent for Operation Black Vote is not an option. Our communities, our institutions and wider society greatly benefit from utilising the deluge of BAME talent within the political arena.
"The outcome of these women taking their place in local governance will without doubt, transform their locality and greatly enhance our democracy."