A guerrilla priest shot early last century is worshipped today by those who arrive illegally in the U.S.. His statue is now on tour in California; some ask him to help Obama on immigration reform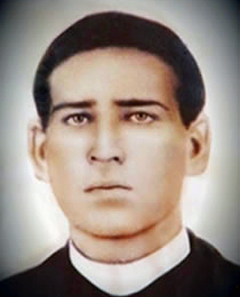 01 July 1, 2011 – Toribio Romo Gonzalez said Mass for the peasants who fought during the Cristero ribellion against the Mexican government's crackdown on the Roman Catholic Church, led by President Plutarco Calles, a Mason who refered to the institution as "the cause of all the misfortunes of Mexico."
Canonized a decade ago by Pope John Paul II, this warrior priest became the patron saint of Mexican migrants, especially those who risk their lives to go through the U.S. border illegally. One of whom, lost and dehydrated in the desert, said he was saved by a fair-skinned young man with blue eyes identical to Toribio. It was the first in a long series of accounts of his struggles on behalf of immigrants.
Two weeks ago a statue of the saint, with a relic of its hip, left Mexico for a tour of California that is attracting thousands of worshippers. Each stop, writes the New York Times, draws a large crowd of Latinos, to masses, prayers and souvenirs. The faithful are thankful for the protection received, and calling for new favours. Even help on the immigration reform, and amnesty, that Obama is struggling to carry out.
During the stop in San Francisco, the New York Times interviewed Mrs. Lucia Castillo: "We came to thank Santo Toribio for all he has done for us", she said.
She credits the holy man for making her invisible to the police during her journey of hope. His hand is also behind the green card obtained by her husband according to her, and behind his dishwashing job. She now asks for a last effort to speed up the processing of his visa.
No similar worship in the UK for now. Some say that a certain San Papier has appeared during immigration protests. But few believe he can work miracles.
by Elvio Pasca