Speech on trade mission in Mumbai today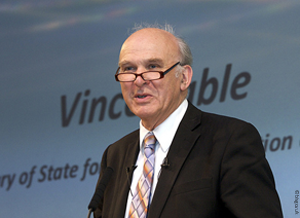 17th January 2010: Business Secretary Vince Cable is expected to use his first speech on a trade mission to Mumbai in India, to confirm that the UK remains open for business. His speech scheduled today is likely to compose Indian business fears that Britain remains closed to Indian investment because of the new cap on non-EU migration.
Cable calls to thin down the migrant cap, which will be introduced in April, so that it does not catch skilled non-EU migrants transferring between UK and non-UK subsidiaries.

In his second visit to India as Business Secretary, Cable will also state how the Government was committed to India. He will also elaborate as to how the government was working hard to get that message to British companies that opportunities exist in low carbon technologies, including nuclear, infrastructure, and education.

He will also probably highlight Indian investment in the UK, pointing to the fact that of the 1,200 Indian companies based in Europe, 700 are based in the UK.

It is anticipated that Cable will talk of major Indian investors in UK. Many of India's leading engineering and life sciences companies which have invested in the UK, such as Tata Motors and Tata Steel, Bharat Forge, Mahindra and Mahindra and Biocon, may also find their mention in the Business Secretary's speech.

There is also an increase in investment in sectors such as financial services, creative, retail and renewable energy and Cable is likely to reiterate today Britain's openness to investment.

Addressing a business audience at the Confederation of Indian Industry earlier, Cable said that he was well aware that there have been various concerns expressed in some quarters of India.

The concerns were apprehensions about changes to British rules on migration which were considered to be detrimental to Indian firms. Cable clarified that he would like to state for the record that the Government had exempted Intra-Company Transfers from the annual limit which comes into effect in April.

He added that they welcome the role which Indian workers play to the UK economy and, of course, the massive contributions made by the Indian delegation in the UK.

David Cameron had said that immigration can be cut by tens of thousands a year without damaging the economy and originally wanted intra-company transfers to be included in the permanent annual cap of 21,700 a cut of 6,300 on the equivalent figure for 2009, that takes effect in April.

However, this was dropped last autumn following lobbying by a wide range of businesses, from banks and law firms to carmakers. In future such migrants would be allowed to stay for up to five years if their salary exceeds £40,000.

Companies were also being allowed to bring members of their staff to work in the UK for a year if the job was in information or communication technology and the salary was over £24,000. Altogether 22,000 employees came to work in the UK via intra-company transfers in 2009.