Science and engineering courses may not be feasible without international students
9th March, 2011: Science and engineering courses may not be feasible without international students, this has been suggested by universities across the country.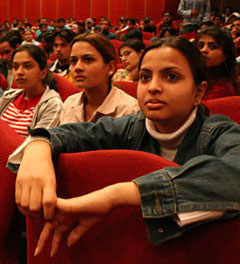 Vice-Chancellors from universities across the UK have expressed their deep worry over plans to limit the number of non-EU students able to study in the country.
With a high proportion of chemical engineering undergraduates usually coming from outside Europe, these measures may have extreme consequences for the profession in the UK, assert representatives from various universities.
Representatives from 16 universities have signed a letter advising that without international students, many university courses, particularly science and engineering ones may no longer be feasible.
The restriction on student visas is planned as part of a crackdown on immigration that will halve the amount of people entering the UK each year.
The head of Chemical Engineering at the University of Cambridge, Nigel Slater said that they were quite dependent on overseas students. Any major curtail on them coming to the UK could have serious consequences. This could also result in reduction of the quality of the course to the UK students.
Nigel asserted that it was a very fine balance of the whole economic structure, and taking out one little bit of it could well damage all the rest.
Non-EU students attending universities within the UK are currently required to pay the full cost of their degree. This figure generally obscures even the yearly £9,000 ($14,500) fee that can be charged to a 'home student' from September 2012.
The head of Chemical and Process Engineering at Strathclyde University, Carl Schaschke stated that these students were very well qualified and there was no reduction of standards in their universities. These students infact added to the internationalization of courses, enhancing the student experience for both home and overseas students.
One reason cited for increasing restrictions was to avoid students absconding from their courses and attempting to stay within the UK after their visa had expired. Academics have been quick to reject at least some features of these claims.
The head of chemical engineering at Loughborough University, Chris Rielly added that as far as they were concerned there were no issues with people using it as a backdoor to enter Britain. It was quite an expensive way to enter the country.
Reilly further stressed that there were quite a lot of measures in place to ensure that there were no people trying to enter and remain in Britain illegally. It just seemed like a complete over-reaction to the situation. "There might be some problems with some institutions, but not the major universities," added Reilly.
David Brown, CEO of IChemE, said they very well understood the need for some restrictions but this should not be done in a way that negatively influences reputable universities.
Brown added that any system implemented should be simple, dependable and customer driven. Engineering education provided a significant boost to the UK economy and it should not be damaged stressed Brown.