Riots may result in "illegal migration wave"


9th February 2011: As situation continues to remain tense in riot-torn Egypt, thousands of Egyptians may try to find their way to Britain — at least this is what a leader of Nato has predicted.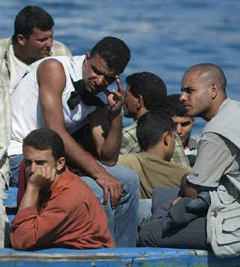 As many refugees are desperate to escape, Nato Secretary-General Anders Fogh Rasmussen, 58, believes the riots may eventually result in a huge "illegal migration wave" lapping the shores of the EU.
A substantial number of them will head straight to Britain, as the country has always been known to provide shelter and refuge to those genuinely in its need.
The development is significant as approximately 182,000 refugees poured into the UK last year.
Egypt has virtually come to a standstill following three weeks of anti-government riots. Rasmussen also apprehends a change in regime could also end up in a nuclear arms race in the Middle East.
Rasmussen told Nato members it was a timely reminder that they cannot take security for granted, even in their immediate neighbourhood.
Protestors have been on the streets of Egypt's cities over the last few days demanding the departure of President Hosni Mubarak, in power for the last three decades.
In fact, the crisis is forcing some companies to make arrangements to repatriate British holidaymakers. Many others, including foreigners in the UK, who had booked trips have cancelled their plans.
The political crisis in Egypt is also having fallout on the UK companies, particularly the ones in the travel sector. Even the companies listed on the stock exchange are suffering share falls.