06 July 2010: Even as the Home Office says the new coalition government is committed to ending the removal of gay or lesbian claimants facing proven risk of imprisonment, torture or execution, it has been blamed for telling such asylum seekers to avoid persecution back home by keeping their sexuality secret.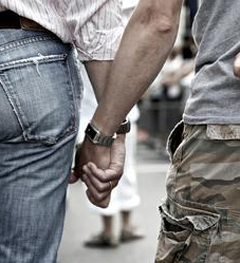 In fact, the United Nations High Commissioner for Refugees (UNHCR) says the gay or lesbian asylum seekers are regularly told to go home and keep their sexuality secret to avoid repercussions under the "discretion-test" used by immigration officials and courts since 2006.
As such, the UNHCR believes the UK is turning international convention "on its head".
Elaborating, the UNHCR's legal officer in London, Alexandra McDowall, says the "discretion test" introduces an element that shouldn't be there.
It was akin to asking a Jew to hide in the attic to avoid being sent to the concentration camps?
She said it compelled failed gay and lesbian applicants to live under a veil of secrecy back home.
McDowall says people facing threats because of their sexuality were a protected group, alongside those facing religious or political persecution.
Persecution does not cease to be persecution just because an individual can take avoiding action by being discreet, she adds.
Already, a leading UK charity for lesbian and gay asylum seekers has brought to the fore disproportionate levels of rejection for homosexual applicants.
The study of 50 Home Office reason for refusal letters issued from 2005 to 2009 to claimants from 19 different countries claiming asylum on the basis of their sexual identity was conducted by the `UK Lesbian & Gay Immigration Group'.
The charity promotes equality and dignity by supporting lesbians and gays seeking asylum in the UK
After looking at the decisions of UK Border Agency at interview stage, the group found that although refusal at this stage was high for all asylum applicants, it was much higher for lesbian and gay applicants
In fact, the refusal rate hovered around 73 per cent in 2009, while the refusal of lesbian and gay applicants between 2004 and 2009 was between 98 and 99 per cent.
The group was of the view lesbian and gay asylum seekers already experiencing persecution could face discrimination in the own country.
As of now, a substantial number of them are from countries where homosexuality is unacceptable, including as Iran, Cameroon and other African nations.