1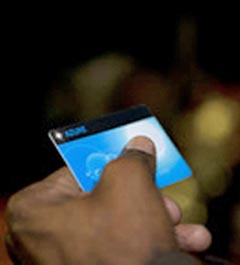 1 November 2010: Four leading refugee organisations in the UK, the Refugee Council, the Scottish Refugee Council, the Welsh Refugee Council, and the North of England Refugee Service (NERS) have criticised a payment card recently introduced for asylum seekers, which leaves many living in hunger and deprivation.
A new report, "Your inflexible friend: the cost of living without cash", published by these organisations on 5th November brings to light a wide range of problems caused by having to use the card, including being unable to buy enough food to feed themselves and their children.
The Azure card was introduced at the end of 2009 to replace the use of supermarket vouchers for asylum seekers whose claim had been refused but who were still unable to return to their country. The card is topped up weekly with £35 for a single person and can be used in a limited number of supermarket outlets. It cannot be exchanged for cash, and only £5 can be carried over to the next week.
The research found that without access to cash, over half (56%) of respondents could not pay for travel to see their legal advisers, or attend essential health appointments (53%). It also found that 40% were unable to buy food that met their dietary, religious, or cultural requirements in the specified supermarkets, and many experienced hunger and malnutrition as a consequence.
The research also revealed that 39% believed the supermarkets do not offer good value for money, and that they would get better value at a market or charity shop. Sixty percent had experienced the card not working, including 13 people with children, and 79% reported that shop staff had refused the card, despite being in the specified supermarkets. At the same time, 56% reported feelings of anxiety and shame when using the card.
The findings confirm the concerns raised by the organisations when the payment card was first introduced in 2009, and that asylum seekers living on this type of support continue to live in deprivation as a result of the card.
Mr. Jonathan Ellis, Director of Policy and Development at the Refugee Council said: "Our evidence proves the failings of the new Azure card are forcing asylum seekers into hunger and hardship. Their survival relies on a payment system that not only hugely restricts where, when, and what they can shop for, but often does not work at all. We understand these are hard economic times for everyone, but it is a disgrace to allow the most vulnerable people in our society to suffer.
"These people, often with babies and young children, are in many cases just waiting to return to their countries as soon as they can, or cannot return because it is still unsafe. They have no choice but to remain here temporarily, and are not allowed to work to support themselves. It is therefore unacceptable that they are unable to buy items that meet their basic needs, and that they have to face hostility in shops when they use these cards."
Mr. Ellis asked the government to end what he described as "inhumane system" and to offer asylum seekers cash as an alternative. "Though levels of support are still too low – at just £5 a day – a simple cash support system would give them the freedom to spend their money as they wished, while allowing them to live in dignity until they can return home."
by Stephen Ogongo