The Home Secretary meets inspiring individuals and hears about their contribution
22nd June 2011: Acknowledging the contribution of refugees, Home Secretary Theresa May said they have played a vital part in shaping Britain in the last sixty years.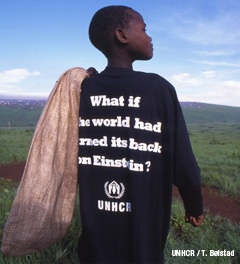 The assertion came as people settled in the UK after fleeing persecution visited the Home Office.
The Home Office said: `To mark World Refugee Day – and Refugee Week 2011 – Theresa May met people who have been given sanctuary in the UK after fleeing war and persecution in their home countries'.
`Dr Akong Tulku Rinpoche, a monk who founded the first Tibetan Buddhist Centre to be built in the West and Carlos Arredondo, a Chilean singer, songwriter and poet, were among refugees who had tea with the Home Secretary in central London'.
May said: 'It has been a privilege to meet these inspiring individuals and hear about the contribution they make to life in the UK. Refugees like those I have met today have played a vital part in shaping Britain in the last sixty years.'
This year represents a milestone in the global effort to support refugees, the 60th anniversary of the UN Refugee Convention, which sets out the rights of refugees and states' legal obligations.
The Home Office added the UK continues to provide sanctuary to some of the world's most vulnerable refugees.
More than 3,300 people have so far been safely resettled in this country through the Gateway Protection Programme, which began in 2002.
Every year it brings up to 750 particularly vulnerable refugees with no prospect of returning to their home country to the UK from refugee camps and urban areas around the world.
In their first year in the UK, the refugees receive the support they need to integrate into British life, including housing, healthcare and education.