The EU and national governments consistently fail to quantify the human cost of deportation policies, IRR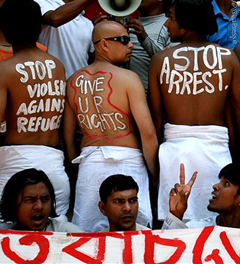 22 October 2010. A list of 14 deaths (12 men and two women), occurring since 1991 during forced deportations from European countries, has been drawn by the Institute of Race relations European news team.

The official cause of death in most cases was positional asphyxia or cardiac arrest. Of the 14 that died, 10 were Africans (of which six were Nigerians).

The full list of deaths:
•2010 Jimmy Mubenga (Angolan – UK)
•2010 Joseph Ndukadu Chiakwa (Nigerian – Switzerland)
•2007 Osamuyi Aikpitanhi (Nigerian – Spain)
•2003 Mariame Getu Hagos (Somali – France)
•2002 Ricardo Barrientos (Argentinian – France
•2001 Samson Chukwu (Nigerian – Switzerland)
•2000 Christian Ecole Ebune (Cameroonian – Hungary)
•1999 Aamir Mohamed Ageeb Sudanese – Germany)
•1999 Marcus Omofuma (Nigerian – Austria)
•1999 Khaled Abuzarifeh (Palestinian – Switzerland)
•1998 Semira Adamu (Nigerian – Belgium
•1994 Kola Bankole (Nigerian – Germany)
•1993 Joy Gardner (Jamaican – UK)
•1991 Arumugam Kanapathipillai (Tamil, Sri Lanka – France)
As debt-reducing measures and austerity packages are introduced all over Europe, governments are tempted to abandon plans to build more immigration removal centres.
One way to cut costs is removing as many legal obstacles to deportation as possible and thereby speeding up the process of removal.
IRR's latest European Race Audit briefing paper 'Accelerated removals: a study of the human cost of EU deportation policies, 2009-2010' suggests that, in the countries of northern and eastern Europe, the scale and pace of deportations is accelerating, even as the number of new arrivals declines.

Speedier removals have been accompanied by the increased use of force, as well as measures that both deny asylum seekers access to justice (which in itself ensures a faster rate of removal) and limit the ability of NGOs to scrutinise the system and provide independent oversight.
The IRR attempts the difficult task of quantifying the human cost of deportations. In contrast to the constant collection of data on the numbers of people entering Europe, the EU as well as national governments consistently fail to quantify the human cost of deportation policies.
There is no comprehensive data on the use of force (including injury or death caused by state violence); nor is there consistent and meaningful data on incidents of self-harm or suicides of those held in pre- deportation detention. There is evidence that speeding up the pace of removal puts individuals under abnormal levels of stress that are deleterious to health and can even undermine the will to live.
Download the latest European Race Audit Briefing Paper: 'Accelerated removals: a study of the human cost of EU deportation policies, 2009-2010'