Hand-to-mouth life resorting to cash-in-hand work; frequent mental health problems; sex trade.

04 February 2011: In its new report, 'Coping with Destitution', Oxfam exposes how failed asylum seekers are 'neglected' by the system.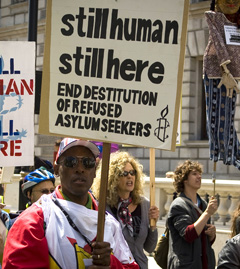 Painting a bleak picture, the charity's report reveals how many were dependent on others to allow them sleep on the floors or share a hot meal.
And their number by no means is miniscule. In fact, thousands of failed asylum seekers are living in the UK without income or a safe place to sleep.

Many failed asylum seekers, who appeal against their failed cases, live a hand-to-mouth existence by resorting to cash-in-hand work. As if this is not bad enough, they sometimes develop mental health problems. Some others are turning to the sex trade.
The research was carried out with a team at Swansea University. It said the exact number of failed asylum seekers on the UK's streets is not known.

Taking a note of their plight, Oxfam has urged ministers to initiate steps to improve the decision-making process. They have also asked the ministers to make all support payments in cash. In fact, they should get condition less cash-based support, until granted permission to stay, left voluntarily or were removed.
Agreeing the process could be improved, the UK Border Agency said asylum seekers need not be destitute, while they had a valid reason to be in the UK.

But funding the asylum seekers without a valid reason to remain in the UK might encourage them to stay on.
The study found several asylum seekers lost the legal battle as they had no access to legal advice or did not speak English.
Oxfam's director for poverty in the UK Kate Wareing said these were people who took heartbreaking decisions to leave their families and flee their homes only to end up living as ghosts on the streets of Britain as government policy and decision-making strips them of their rights and dignity.
Wareing was of the view that the current system was designed to make people feel as low as possible. It was sending out a message that those refused asylum are not even worthy of our compassion.
It argued this would allow them to buy what they needed and would put them in regular contact with authorities, meaning they would be closer to help from the government or voluntary organisations.