Protestors insist Khetiwe Mashavave wrongly arrested
23rd September 2011: The arrest of a 50-year old Zimbabwean asylum seeker, Khetiwe Mashavave, has sparked off protests.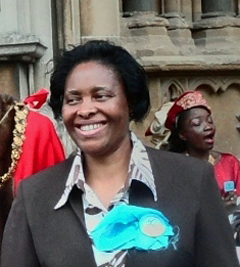 Insisting that Ms Mashavave has been wrongly arrested, protestors gathered around Trinity Road police station.
In fact, nothing less than 80 members of campaign groups Bristol Defend the Asylum Seekers and Bristol Refugee Rights carried out the protests, along with the friends of Ms Mashavave.
Objecting to her detention, they are also demanding her release.
A month after the Zimbabwean asylum seeker spoke at the launch of an initiative marking Bristol out as a "city of sanctuary" for refugees, the 50-year-old was detained by police, as went to sign on as part of her asylum requirements at Trinity Road police station.
She has lived in the UK for a decade now. Apprehensions are that she could now be shifted to a detention centre and deported.
Mashavave's friend-cum-Bristol Defend the Asylum Seekers' member Sophy Gairdner said the asylum seeker has an ongoing case and is waiting for a judicial review to be held, so it seems out of order that she has been detained, as her case hasn't yet been heard.
Her solicitors have not yet heard back from the courts, so this should not be happening. Her solicitor has contacted her, but the great fear is that she has been sent to a detention centre. It is terribly hard to get out of a detention centre, and once you are in you are often moved around from one centre to another."
This is Bristol quoted Gairdner as saying Mashavave came to the UK 10 years ago searching for a safe haven. She was harassed and intimidated and threatened by the police and the Green Bombers, a group of government thugs in Zimbabwe who intimidate people who they feel are not supporting their party. She has been here for a long time and was given a home in Whitchurch by friends she met and is a member of a church in Brislington.