Sports personalities airs support for government's stand against hate in sports
24th June 2011: Gays or lesbians in UK after fleecing persecution back home can look forward to fairness in the field of sports.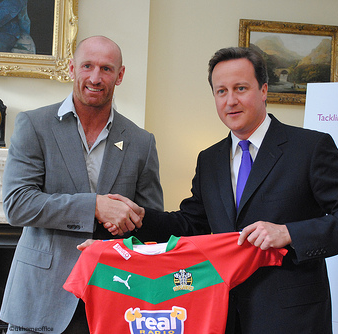 For sports personalities have aired support for government's stand against hate of any kind, anywhere in sports.
Home Office said tennis legend Billie Jean King and rugby's Gareth Thomas and Ben Cohen joined the Prime Minister and the Home Secretary at an event to show support for a government charter for action.
Sports organisations also signed the charter, which commits signatories to helping rid sport of discrimination so that everyone can take part.
Speaking at the reception, Prime Minister David Cameron said: 'I think it's great that here in No 10 we have got representatives of the governing bodies of almost every single sport you can think of, signing the charter and saying it's time to put an end to homophobia.
'There are a huge number of sports personalities who have not felt able to come out. We should be doing far more to make them comfortable to do that.
'Young people look to role models, and until we have enough positive role models, it won't change.'
Home Secretary, Theresa May added: 'There is no room for hate of any kind, anywhere in sport.
'But too many lesbian, gay, bisexual and transgender people feel that the sports field is not somewhere they can be themselves, and that prejudice and discrimination will mean their sexuality is always talked about more than their ability with a ball, bat or racket.
'Sport should be about what you can do, not who you are. I want to see anybody and everybody who loves sport sign the Charter for Action and commit to kicking homophobia and transphobia out of sport for good.'
Homophobia is a term used to refer to a range of negative attitudes and feelings towards lesbian and gay and in some cases bisexual, transgender people and behaviour.
The Charter for Action forms part of a government plan to ensure equal treatment for lesbian, gay, bisexual and transgender people.
The government is taking action on a range of issues from civil partnerships, to promote better recording of hate crimes and a commitment to promote rights abroad.
The Charter for Action was launched on 13 March by government minister for equalities, Lynne Featherstone.
To support the campaign, you sign up to the Charter for Action 'like' the 'I love sport, but I hate homophobia and transphobia' Facebook page.