Thousands of people will gather in cities across Europe and the world to mark the UN Anti-Racism Day on 19th March.
Major mobilisations dubbed Stand Up To Racism will be held in London, Scotland and Wales, organised by Unite Against Fascism, to say no to racism, Islamophobia, Anti-Semitism and the scapegoating of migrants. The rallies will also say yes to diversity and that refugees are welcome here.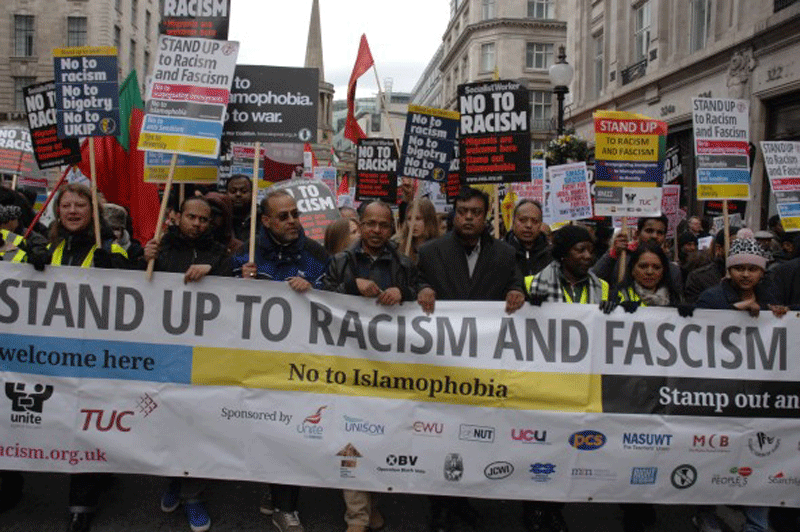 People will assemble for the National Demo at 12 noon at Portland Place, London W1A 1AA for a march followed by rally in Trafalgar Square.
Unite Against Fascism says: "A racist offensive against refugees, migrants and Muslims is being pushed by some politicians and press. It is crucial we respond to this by standing in solidarity against attempts to divide our communities. The appalling treatment of refugees across Europe and the staggering rise in anti-Muslim hate crimes must be challenged."
PCS, one of the organisations backing the initiative, says it "has a proud history of campaigning against racism and fascism."
"Our anti-racism and anti-fascism work carries a strong message that PCS does not tolerate or accept racism and fascism as it has no place in our union or society," says PCS.
Click here for further information about the National Demo: Refugees Welcome Here: Stand up to racism Islamophobia anti-Semitism & fascism! UN Anti-racism day demonstration Sat 19 Mar 2016 London #M19.
ALSO READ:
David Lammy to lead review into racism in UK's justice system
Mother threatens to sue teacher who said her black teenage son "looked like a monkey" in front of class