Insisted they smelled of curry; now stands sacked
17th February 2011: In yet another case of apparent racial discrimination, air freshener was sprayed on children of Asian origin, as a teacher insisted they smelled of curry.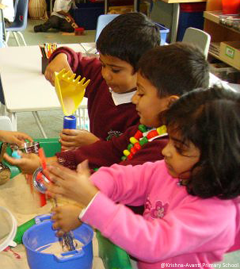 The saving grace is that the teacher has been banned from classrooms after she practically sprayed insult on the children in the primary school class.
Elizabeth Davies of Neath, 48, has in fact been struck off for at least two years for the way she treated the children. She has been sacked from her £34,000-a-year job over "child protection concerns".
In a disciplinary hearing, it was brought out that Davies would say: "There is a waft coming from paradise" before using the air freshener. She was blamed for wearing a "smug look" while spraying children in the class with nothing less than half the pupils of Bangladeshi origin.
According to teaching assistant Wendy Roe she whispered derogatory words on more than one occasion. Replying to a query on racial discrimination, Roe said she thought so and felt she had a problem with them.
Davies, on the other hand, denied all the five allegations of spraying aerosol at the pupils, washing pupils' hands in disinfectant and making them stand on newspaper after they accidentally wet themselves.
She was also blamed for asking support staff to spray the children at the 260-pupil primary school in Swansea, south Wales.
The disciplinary panel found her guilty of each of these things. The panel chair, Peter Williams, was of the opinion there was insufficient evidence on the use of derogatory language by Davies.
He added the committee was satisfied Davies' conduct fell short of the standard of a registered teacher and therefore amounted to unprofessional conduct.
The totality of the evidence was that Davies used the air freshener on the children and this was a common occurrence.
She did not attend the General Teaching Council for Wales hearing in Cardiff. Her representative Peggy George said she was "surprised" by the racial allegations, and added it has never been raised as an issue before."
She was removed from the teaching register and told it will be two years before she can reapply.