Council houses to immigrants go up by10 per cent
10th August 2010: The migrants are at the receiving end, but in a positive sense.
Official figures reveal the number of council houses handed over to the immigrants has registered an increase of10 per cent in a year to nearly 10,000.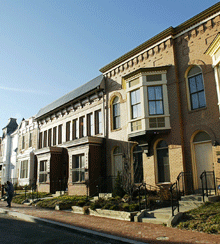 It now emerges that foreign nationals were given the keys of nearly one in every 15 newly-available houses let by a council or housing association.
The research by the House of Commons Library suggests foreign nationals were handed over 9,979 social houses in 2008-09. The number was up 905 from the 2007-08 figure of 9,074.
The research also revealed 147,739 new social lettings were made in 2008-09, suggesting nearly 7 per cent of the homes went to the migrants.
As much as three quarters of the increase was ascribed to houses let to immigrants from EU countries. According to the rules, EU immigrants who are working can apply for social housing immediately.
Other foreign nationals are legally entitled to social housing after more than four years in the UK, or on successfully claiming asylum. Once on the list, the immigrants are considered at the same time as long-standing residents on the basis of who has the greatest need.
The estimated cost of providing social housing on an average is £133,941 per home. The Government contributes as much as £62,000. The remaining comes from the developers or social landlords.
Even as the figures reveal much needed facility is being provided to the immigrants, the statistics have led to demand for a review of the rules on social housing.
Coming out with the statistics, Tory MP James Clappison claimed this was one more aspect of the pressures created by immigration at a time when people were on a waiting list for many years for tenancy.
The MP said the system surely must be ripe for review; and he thought it would strike a lot of people as strange when UK citizens were waiting up to 10 years for a home.