Increases by approximately 100,000 a year to September 2010

27th May 2011: A steep fall in the number of people leaving the UK for living abroad and parallel increase in the Polish migrants coming to live in the UK has resulted in net migration to Britain rising to its highest level for five years.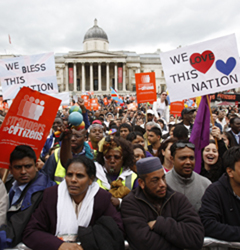 The latest quarterly figures reveal net migration increased by approximately 100,000 in the year to September 2010. It now stands at 243,000.
Net migration is the gap between those arriving in the UK for more than 12 months and those leaving the UK to live abroad.
Based on the International Passenger Survey, the data reveals 310,000 people left Britain to live abroad in a year to September 2010. It was 50,000 less compared to the previous year.
The Office for National Statistics figures also showed approximately 50,000 rise in immigration to Britain over the year to last September from 507,000 to 553,000. The ONS statisticians the phenomenon was largely due to an increase to 43,000 in net migration from Poland and other "A8" eastern European countries who joined the European Union seven years ago.
The data is significant as the figures run contrary to the Conservatives' pledge to bring down the number to the "tens of thousands" by the next general election scheduled to be held in 2015.
Migration experts are apprehending that the government's knee jerk reaction to the figures will see the ministers consider the feasibility of coming out with even more drastic measures to achieve the target.
The only hope visible in the near future for home secretary, Theresa May, is Germany and other EU countries' decision to open the borders this month to Polish and other workers.


As of now, the official figures reveal the number of Poles in Britain is now 545,000; and the community is the largest foreign nationality in the UK, overshadowing the Indian, Pakistani and Irish communities.
Reacting to the data, immigration minister Damian Green said the figures covered a period before the government introduced its cap on skilled workers and tightened the rules on allowing overseas student to come to the UK.
It demonstrates exactly why it is right that they take control of the immigration system and reduce net migration to sustainable levels – tens, not hundreds of thousands a year, he said.
Labour, on the other hand, said the rise in net migration has brought into focus the immigration pledge. Since the business secretary, Vince Cable, publicly disagreed with the prime minister that the target was an agreed policy and the prime minister insisted there was 'no ifs, no buts', the government has gone very quiet on what was a flagship Conservative promise, said the party's immigration spokesman Gerry Sutcliffe.