Passports handed out at the rate of almost 2 in every 5 minutes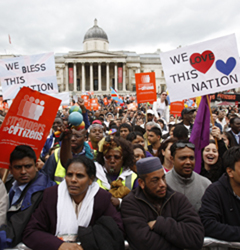 14th June 2011: The UK is the continent's most open-to-immigrants county.

A research conducted by the EU statistics body –Eurostat — says nothing less than 204,000 foreign nationals were granted awarded British citizenship in 2009.
Statistically speaking, the passports were handed out at the rate of almost two in every five minutes. With this, UK grabbed the first position, with 50 per cent more than second-placed France. It was more than double the number in Germany.
The statistics also led Eurostat to come out with the prediction that Britain could become the most populated EU country by 2060 with 79 million people.
The figures also reveal that EU saw an 11 per cent increase in the number of people entering the euro zone, compared to the previous year. In all 203,600, people entered Britain in 2009. It was a 57 per cent increase compared to 129,300 who came in 2008.
Reacting to the data, the critics claimed the statistics went a long way to show that Britain's borders had been left wide open.
Ukip's home affairs spokesman Gerard Batten said the figures show how Labour's uncontrolled, unlimited immigration policy is coming home to roost. Prime Minister David Cameron must get a grip and introduce radical policies to halt mass immigration.