Entering the UK to get married or to enter a civil partnership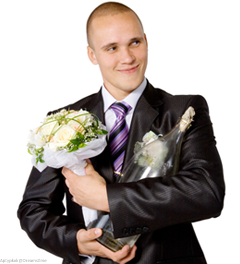 NOVEMBER 2010. This guide illustrates how you can apply for a visa to gain legal status as a couple in the United Kingdom: marriage for opposite-sex couples or civil partnership in case of a same-sex couple.
FIANCE(E) VISA: entry clearance in view of marriage in the UK
If you have permanent status in the UK, such as British citizenship or Indefinite leave to remain in the UK, and you have met somebody abroad whom you are engaged to or would like to marry in the UK rather than in their home country or aboard, you and your partner may wish to apply for what is known as a Fiancé(e) Visa.
The person in the UK will be considered by the Entry Clearance Officer at the British Embassy as the "Sponsor"; the partner who is applying for the visa is called an "Applicant".
CIVIL PARTNER VISA: entry clearance to enter civil partnership in the UK
The UK is one of the few countries in the world that currently gives legal status to same-sex couples, formally recognising their bond as 'civil partnerships'. A civil partnership gives comparable rights to same-sex couples as those enjoyed by married heterosexual couples.
For this reason, many same-sex couples request leave to enter the UK to lawfully enter a civil partnership.
In a same–sex relationship, the Applicant would apply for a Civil Partner visa.
WHAT ARE THE REQUIREMENTS?
In order to qualify for admission as a fiancé(e)/proposed civil partner, you will need to meet the following requirements:

• the sponsor is present and settled in the United Kingdom, or is to be admitted for settlement at the same time as the applicant arrives in the UK;

• the sponsor and the applicant are aged 21 or over;

• each of the parties intends to live permanently with the other as his or her spouse/civil partner after the marriage/civil partnership;

• the parties to the proposed marriage/civil partnership have met;

• adequate maintenance and accommodation without recourse to public funds will be available for the applicant until the date of the marriage/civil partnership;

• after the marriage/civil partnership there will be adequate accommodation for the parties and any dependants without recourse to public funds in accommodation which they own or occupy exclusively;

• after the marriage/civil partnership the parties will be able to maintain themselves and their dependants adequately without recourse to public funds.

• both parties are free to marry
HOW TO APPLY
Applications for leave to enter the United Kingdom as a fiancé(e) or proposed civil partner must be submitted at the British Embassy closest to where the Applicant lives.
Depending on the country you are applying from, you will need to either complete an online visa application or a hard copy visa application – the latter being preferable as it is a lot more straightforward and convenient.
You can download the hard copy visa applications forms from the UKBA visas website www.ukvisas.gov.uk or get a copy from your nearest visa application centre or visa section.
The appropriate form is: form VAF4A – settlement (please see page 7 of the form).
You can apply online on the official website for online visa applications: www.visa4uk.fco.gov.uk. You will need an email address to complete the online forms and a printer to print out a hardcopy of your application.
A substantial amount of documentation must be submitted to support a visa application in these categories. Among these, divorce certificates or a death certificates in the case of a late spouse to prove you are free to marry.
All documents in local language need to summarised in English. Certain documents may require a certified English translation to be accepted. Ask your visa application centre or visa section for advice
Once you completed your application, you will need to schedule an appointment at the nearest visa application centre or visa section to provide your biometrics and submit your application papers.
If you haven't paid online, you will need to pay the correct application fee in the local currency at the appointment.
An Entry Clearance or Immigration Officer will scrutinise your personal circumstances against the relevant immigration rules before deciding to grant you a visa. If the visa officer cannot make an immediate decision about whether you qualify for a visa, you will be asked to attend an interview and to supply further documents.
Your application may be refused and you may be banned from coming to the UK for 10 years if you use a false document, lie or withhold relevant information.
If it your application is refused, you will receive a notice of refusal. This document will list the reasons for the refusal, and will explain your right to appeal.
Under this visa category, you have a full right of appeal.
LEAVE TO ENTER as a fiancé(e) or proposed civil partner
If your application is approved, you will gain entry clearance as a fiancé(e)/proposed civil partner.
You will initially be admitted to the United Kingdom for 6 months.
You cannot take up employment until after the marriage or civil partnership. Once the marriage or civil partnership has taken place, you will need to make a further application to the Home Office to request a variation of your visa status from fiancé(e)/proposed civil partner to that of a spouse or a civil partner.
Once this application is approved by the Home Office, a 2-year probationary period visa will be granted. During this time, you can live and work freely, but you will not be able to claim public funds. After satisfactory completion of the 2 year probationary period, you will need to apply for Indefinite Leave to Remain in the UK.
After 3 years and assuming the marriage/civil partnership is continuing, you may make an application for naturalisation as a British citizen.
EXTENSION OF LEAVE TO ENTER as a fiancé(e) or proposed civil partner
You may apply for an extension of your visa if:
• you can show good cause why the marriage or civil partnership did not take place within the initial period of leave granted; and
• there is satisfactory evidence that the marriage or civil partnership will take place at an early date; and
• you still meet the original visa requirements (listed above).
If your extension of stay is granted, the prohibition on employment will remain as per the original visa.
Age requirements for fiancé(e)s and civil partners
The age at which someone can sponsor or be sponsored as a spouse was raised from 18 to 21 on 27 November 2008. The UK introduced this requirement in an attempt to avert forced marriages.
The UK Government does not accept forced marriages, which can be defined as "a marriage in which one or both spouses do not (or, in the case of some vulnerable adults, cannot) give free and full consent to the marriage and duress is a factor".
It is important to differentiate this from an 'arranged marriage', which the UK considers acceptable.
In an arranged marriage, the family of both spouses take a leading role in arranging the marriage, but the choice of whether or not to accept the arrangement remains with the prospective spouses.
The Immigration Rules do not allow any person to be granted an entry clearance as the spouse or civil partner of another if the applicant will be aged under the age of 21 on the date of arrival in the United Kingdom.
Any entry clearance application from a fianc(e)é/proposed civil partner under the age of 21 years when entering the UK will therefore, be refused.
An applicant who is over the age of 21 but wants to marry to/enter a civil partnership with a person who is under 21 will also be refused entry clearance.

edited by Federica Gaida
Related articles:

Marriage Visas – All you need to know
Settlement visas for dependent relatives

Disclaimer: The above article is meant to be relied upon as an informative article and in no way constitutes legal advice. Information is offered for general information purposes only, based on the current law when the information was first displayed on this website.
You should always seek advice from an appropriately qualified solicitor on any specific legal enquiry. For legal advice regarding your case, please contact Greenfields Solicitors for a Consultation with a Solicitor:
Tel. +44 (0)20 8884 1166
E-mail

[email protected]
For questions regarding the subject covered in this guide,
PLEASE REGISTER IN OUR FORUM and post your question under the appropriate category ('ENTERING THE UK: VISA ISSUES').
Greenfield Solicitors will answer them regularly.