A Guide to apply for release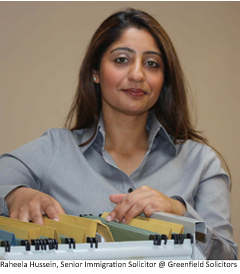 FEBRUARY 2011. When an individual is detained because they have breached the Immigration Rules or laws, then they may be sent to an Immigration detention centre to be held by the Immigration authorities. The Immigration authorities will be from the UKBA (UK Border Agency), who act on behalf of the Home Office.
UKBA will usually detain the individual with the aim of removing them from the UK to their home country, if they can ascertain that the individual has no lawful right to remain in the UK. Often, immigration will detain individuals who are illegal entrants, overstayers or individuals whose visa has expired. People who are the subject of a criminal court recommendation for deportation can also be detained at specific stages of the deportation procedure.
Once an individual is detained, they may feel that they have grounds to be released from detention. Grounds for release would include being reunited where an individual has family members in the UK who may have permanent legal status or are British citizens, where an individual has an immigration or asylum application pending at the Home Office or where they believe they wish to make an application to regularise their legal status whilst in detention.
Process for applying for release from detention
The first step for an individual to try and obtain release would be to ask the Chief Immigration Officer at the detention centre to issue them with either Temporary Admission or Chief Immigration Officer Bail..
The idea behind temporary admission is that it can be granted while an applicant is waiting for some immigration action, decision or procedure to be completed. Temporary Admission is an alternative to detention and can be granted where there is a power to detain. The individual would need to make representations to the Chief Immigration Officer arguing why they should be released and provide any documents which they feel helpful for the Chief Immigration officer to make a decision.
In the event that the Chief Immigration Officer refuses bail, then the individual can apply to make a Bail Application before an Immigration Judge. A bail application is a legal procedure available to any person who has been detained by the UK Border Agency in a removal centre for seven days or more.
It is an application to a court for release, usually under certain conditions. When a detainee makes an application for bail they are brought to an immigration court (the Immigration and Asylum Chamber of the First Tier Tribunal) where an independent Immigration Judge makes a decision on whether detention should be maintained. The case may be presented by a legal representative and will generally be opposed by a Home Office Presenting Officer. Many detainees who can't find a lawyer have to represent themselves in bail hearings. If bail is refused, the detainee has the right to apply for bail again after 28 days unless their circumstances have changed, in which case they can apply sooner.
If bail is granted there will normally be certain conditions attached. For example, the individual and their sureties (if they have any) may have to offer an amount of money considered proportionate to their financial means, an amount that would be surrendered if the detainee absconded. The Immigration Judge will require certain requirements to be observed on release: for example the detainee would have to live at a specified address, and report to an UK Border Agency office or a police station at regular intervals. Electronic monitoring may also be a requirement.
The Immigration Judge will look at the following factors before deciding to grant bail:

• Whether the individual has previously breached any previous temporary admission or bail conditions
• Whether the person has any criminal convictions
• Whether there area lack of personal ties to the UK such as no fixed address, no family, unemployed…
• Whether there are any immigration outstanding applications that would entice the individual to remain in contact with the Home Office
• Whether there are suitable surety's available
• Will an individual abscond?
• Is a removal imminent?
Sureties
When a bail application is made before an Immigrations Judge, it is important that there are "sureties" available. A surety is someone who is willing to put down a recognisance (monies) to help secure bail for an Individual.
To qualify as a surety, a person:

• should ideally be close to the detainee, such a family member, partner, or good friend to show they have influence over the detainee;
• must have lawful legal residence in the UK albeit temporary or permanent legal status;
• must be over the age of 18;
• should be in employment and earning regular income with evidence that they have savings available: they will need to provide three months bank statements or pay slips;
• make a promise to the court that they will forfeit their recognisance if the detainee fails to comply with the bail conditions imposed.
Appeal Rights
The right of appeal is not granted in all cases. However, where a removal decision is made by UKBA to remove an individual from the UK, and where an individual has raised a human rights claim, an in-country right of appeal will be given for the individual to argue their case before an Immigration Judge on why they should not be removed from the UK and allowed to remain.
Many arguments will centre on human rights claims such as under article 8, which provides the right for private and family life and ultimately will provide the individual the optimum chance to argue why they should be allowed to remain in the UK.
Many detainees who make bail applications are not represented by solicitors, but it is preferable that legal advice and representation is sought so as to ensure the very best chance of obtaining bail as early on as possible.

Related articles:

When to apply for Discretionary Leave and Indefinite Leave to Remain on compassionate grounds
For questions regarding the subject covered in this guide, please visit migreat.com.

Disclaimer: The above article is meant to be relied upon as an informative article and in no way constitutes legal advice. Information is offered for general information purposes only, based on the current law when the information was first displayed on this website.
You should always seek advice from an appropriately qualified solicitor on any specific legal enquiry. For legal advice regarding your case, please contact Greenfields Solicitors for a Consultation with a Solicitor on 020 8884 1166.