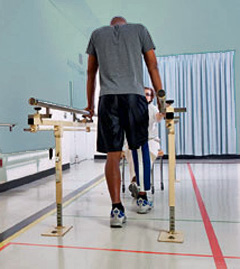 When clients contact a solicitor with a view to making a personal injury compensation claim, the two most asked questions are 'how long will it take?' and 'how much will I get?'
There are no universal answers for either, as there are so many different variables that could affect them. However, by understanding what the key variables are, you should be able to better assess your own particular situation.
Let's start with 'how much could you get' as that's marginally easier to cover in a few paragraphs.
Read this guide in Romanian:Cererea de despăgubire pentru vătămare corporală
HOW MUCH COULD I GET?
It is accepted practice to use the Judicial Studies Board (JSB) Guidelines as a starting point (but note that they are only guidelines, and judges do not have to follow them to the letter).
However, this should only extend as far as the solicitor's customer marketing, e.g. their website. As soon as they accept your case, your solicitor should arrange for a private medical examination to support your claim, following which they will be able to give you a more accurate prediction of what you are likely to gain.
The medical report will be combined with any information you can provide on how the injury has affected you in order to present your claim to the defendants.
By the same token, if you had any pre-existing health conditions, you must tell your solicitor about them.
Besides compensation for the injury itself, your solicitors may also include the following in your claim:

• property damage, including clothes
• medical treatment and medication costs
• travelling and parking expenses when attending appointments
• care and assistance
• income lost due to the injury – both whilst you were off work, and if your injuries affect your income when your return to work
• stress, loss of experiences, missed special events, depression and anxiety.
HOW LONG DOES IT TAKE?
What every good solicitor will tell you if you press them for a speedy resolution to the case is that it's more important to get the maximum amount of compensation than it is to finish quickly. Under the 'no win no fee' system where they are not charging you to make the claim, they do not get paid until the case is settled, so it is very much in their interests to finish as quickly as possible.
However, a good solicitor will take their time to make sure no stone is left unturned in the presentation of your claim – this may affect not just your chance of winning, but how much you are awarded by the judge.
The first thing they will do is 'risk assess' your case before they decide to accept it on a 'no win no fee' basis. This is a methodical (after all their livelihood depends on getting it right) analysis of your case, taking in the circumstances of the claim, the likelihood of winning , an estimate of costs and also how likely it is they will be able to recover both their costs and a 'success fee' from the other side. If your case is not accepted, then it is purely a business decision on their part – and it also doesn't necessarily mean your case is unwinnable. Risk assessments are subjective by nature, and what one solicitor deems to be too risky may be perfectly acceptable to another. A claims management company will have several solicitors it can refer your case to without any further effort on your part. Each solicitor should be able to risk assess within 24-48 hours, although this may depend on if they need to further contact you with any specific questions.
Having accepted your case, the solicitor will usually arrange for the medical examination as mentioned above. Then having obtained your view of events and their consequences, they send a Letter of Claim to the person you are suing (the defendant). This is usually passed straight to their insurers (especially in motor and employment claims) to deal with on their behalf. From here on most of the action takes place between their insurers and your solicitors.
The Letter of Claim is a summary of the details of the accident, why you believe they were at fault, and the extent of your losses. The defendants have 21 days to acknowledge your claim. Having done so they then have three months to investigate your claim and either admit liability or deny it.
Not all investigations will take the full three months. Often, if the defendant recognises they are at fault, they will want a quick resolution to the process and could admit liability within weeks.
If liability is admitted, the defendant then makes an offer. You are not obliged to accept this offer, although if your solicitor believes you should, then it is our recommendation that you go with them. They are duty bound to recommend what is in your best interests and would otherwise be liable for a claim of professional negligence.
If you reject the offer then your solicitor will negotiate further on your behalf. If an agreement cannot be reached then they will issue legal proceedings. At this point they will take out legal insurance to cover your opponents' costs in the event that you lose. You do not have to pay for this insurance (your solicitor is covering everything out of their own pocket which is why they 'risk assess' before accepting cases).
If the defendant has rejected your claim or the amount you are claiming for, it is here that the difference between a good – and experienced – solicitor and an average one can be hugely significant. They will clinically dissect the other side's arguments, cover off every angle possible from the evidence available and your testimony, and negotiate hard on your behalf.
In general, straight forward cases, especially road traffic accidents and accidents at work, can usually be resolved within 6-9 months.
Clinical negligence cases tend to be more complex and can take several years – often because the size of the claim is such that the defendant will contest it all the way.
If you have chosen a good solicitor then the time taken should not matter as they will keep you regularly updated and be there for moral support as well as legal representation.
Disclaimer: The above article is meant to be relied upon as an informative article and in no way constitutes legal advice. Information is offered for general information purposes only, based on the current law when the information was first displayed on this website. 

You should always seek advice from an appropriately qualified solicitor on any specific legal enquiry. For legal advice regarding your case, please contact Hamilton Brady for a Consultation with a Solicitor on 0844 873 608.
For questions regarding the subject covered in this guide, please visit
migreat.com.