QUESTION: We are illegally married in my wife's home country. How can I get her to the UK to start a life and a real family there?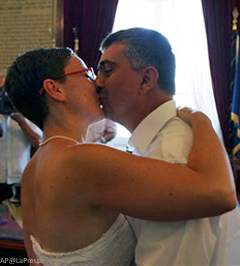 Dear Foreigners in UK:
I am a British Citizen currently living in an Arab Gulf country. I am illegally married to a local girl: her family agreed to the marriage, but the government have not given permission yet.
We thus went to another Islamic country to get married and have returned to her home country where he have lived together illegally for the past six years. 
 

As you can understand, we are married spiritually/religiously, but are not married legally. As a result, we cannot have children, as she would be put in prison for a few months, her passport taken away and I would be deported. 
 

We are desperate to start a family and the only way we can do that is by moving to the UK.
My question for you is this:
 as the government of the country where we live does not recognise this marriage, will it be possible for my wife to come to the UK and get married here?
If my wife came to the UK on a tourist visa and became pregnant, and we applied to get married, would the UK government deport her back to her home country, where she would be imprisoned while pregnant?
This is a true and honest marriage, with many witnesses to that fact. What is the best route for us get on with our lives and start a family in the UK?
ANSWER:
There is a possibility for you to get married in the UK, but the likelihood of settling in the UK is limited unless one of you is already a settled citizen of the UK (i.e. British, holds Indefinite Leave Remain in the UK or is a European citizen).
If one of you can be defined as settled, then the non-settled partner can apply to marry the settled citizen in the UK by way of a Fiancé Visa.
This visa would allow the non-settled citizen to enter the UK, marry the settled citizen and then vary your leave so that you can remain in the UK for the purposes of settlement.
However, if neither of you are settled in the UK, you can both still apply to get married in the UK by way of a Marriage Visitor Visa. However, there would be no scope or avenue leading from this visa for settlement in the UK, as it is a short term temporary visa of just 6 months and you would be expected to get married and then leave the UK before the expiry of the visa.
In answer to your second question if your wife came to the UK on a tourist visa and became pregnant she would not have any eligibility to subsequently apply to get married in the UK.
If she decided to remain in the UK with no valid visa then she would of course be regarded as someone who has breached the immigration rules and would been to be residing in the UK unlawfully as an overstayer. As overstayer, the UK government may/can take enforcement action against her, which would mean that they would serve her notice that she is someone who is liable to be detained and removed from the UK.
As she is pregnant they may grant her temporary admission until they are in a position to take enforcement action against her. In the meantime, they make her report to an immigration centre or police station or alternatively they may place a tag on her.
In order to circumvent enforcement action being taking up against her, the best approach would be to submit an application to regularise her status so that she may have legal leave to remain in the UK. This may be achieved either by an asylum claim on an application for discretionary leave.
For further legal advice on this matter you are welcomed to contact our offices and if need be arrange a consultation so that we may advise on how to go about to obtain settlement in the UK for yourself and your wife.
Best wishes.
Related articles:
Marriage Visas – All you need to know
How can I apply for a spouse visa from inside the UK
Overstayer? You might have grounds to apply for discretionary leave
Disclaimer: The above article is meant to be relied upon as an informative article and in no way constitutes legal advice. Information is offered for general information purposes only, based on the current law when the information was first displayed on this website. 


You should always seek advice from an appropriately qualified solicitor on any specific legal enquiry. For legal advice regarding your case, please contact Greenfields Solicitors for a Consultation with a Solicitor on 020 8884 1166.