In April 2011, major changes in immigration laws, applications and procedures was introduced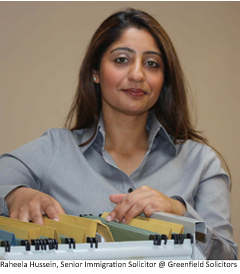 May 2011. In April 2011 the government introduced a multitude of changes in immigration laws, applications and procedures which will affect migrants under the points based system. Here's a summary of the main changes.
This guide amends the "Migrant Guide " published in December by Foreigners in UK and now available on pdf.
First annual limit on non-EU workers comes into force
On 6th April 2011, the first major change to reduce immigration into the UK was introduced as the government published a new annual limit.
Under the annual limit, employers will be able to bring only 20,700 people from outside the EU to work in skilled professions under Tier 2 (General) of the points-based system.
To ensure that only those with the skills the UK needs can come to the country to work, prospective workers will need to have a graduate-level job offer, speak an intermediate level of English and meet specific salary and employment requirements.
Those earning a salary of £150,000 or more will not be subject to the limit.
A further 1,000 visas will be made available to people of 'exceptional talent', to ensure that Britain remains open to the brightest and the best. The 1,000 exceptional talent visas will be given to those who experts believe will make the biggest contribution to science and the arts in the UK.
The Intra Company Transfer route (ICT), which is not part of the annual limit, will also be changed in three ways:

• the job will have to be in an occupation on the graduate occupation list;

• only those paid £40,000 or more will be able to stay for more than a year – they will be given permission to stay for 3 years, with the possibility of extending for a further 2 years;

• those paid between £24,000 and £40,000 will be allowed to come to the UK for no longer than 12 months, at which point they must leave the country and will not be able to re-apply for 12 months.
Also, Tier 1 of the points-based system will be restricted to all but entrepreneurs, investors and people of exceptional talent as the old Tier 1 (General) category has been completely abolished due to widespread evidence of abuse.
Under the new visa rules for investors, those who invest large sums of money will see their right to settle permanently in the UK speed up: those who invest £5 million will be allowed to settle here after 3 years, and those investing £10 million or more will be allowed to settle after 2 years. This compares with the minimum 5-year requirement that is currently in place.
Entrepreneurs will also be able to settle in the UK more quickly, if they create 10 jobs or turn over £5 million in a 3-year period.
In addition to these changes, new rules for settlement and asylum have also come into effect. The changes to the settlement criteria include: a clearer criminality requirement for all applicants; a new income requirement; and reform of the English language requirement, for those on work routes.

So what does the cap involve – and how does it work?
The immigration cap for non-EEA workers for the year from April 2011 is 20,700 – about 6,300 lower than in 2009.
Greenfields Solicitors often instructs Barristers from No 8 Chambers to represent in appeal cases before the Immigration and Asylum Chamber. Reacting to the above changes, Adam Pipe, a Barrister at No 8 Chambers said: "The new statement of changes to the immigration rules reshapes Tier 1 and tightens the requirements for Tier 2."
The government has now slashed the number of skilled jobs open to migrants. It has also removed eight occupations from the points-based system's Shortage Occupation list. It means posts such as senior care workers, pipe welders, meat trimmers and sheep shearers will no longer be open to non-EU workers. Foreign chefs will also only be allowed to come if they have five years experience, are earning more than £28,000 and will not be working in a takeaway. However, care home managers and nurses working in care homes will not be affected.
"The government's changes to the Shortage Occupation list and the reservation of Tier 2 for graduate level occupations only will clearly restrict migration under Tier 2, but may also lead to small businesses suffering", commented, Adam Pipe, a Barrister at No 8 Chambers.
"The government's aims are to allow firms to bring in people with the necessary skills without migrants being the first port of call for a wide range of jobs, and to get people in Britain back to work providing businesses with the skills they need from the British workforce. Takeaway owners will be concerned that they will not be able to find chefs with sufficient skill and experience from the resident labour market," Pipe says.
The decision follows two reports by the Migration Advisory Committee (MAC) looking at graduate-level jobs and the Shortage Occupation list for Tier 2. The changes are likely to affect at least 5,000 migrants a year and is part of the government's wider commitment to bring overall net migration down from the "hundreds of thousands to the tens of thousands". The list could be cut even further as the MAC was asked to review it again.
However, while the government is clamping down on Tier 2, it is positively encouraging foreign entrepreneurs and investors. Under changes to the Immigration Rules, which were laid before Parliament on 16th March 2011, people who come to the UK under Tier 1 (Investor) of the points-based system will be able to settle here faster if they invest large sums of money. Those who invest £5 million will be allowed to settle after 3 years, and those investing £10 million or more after 2 years. This compares with the current minimum 5-year requirement. The right to accelerated settlement will apply to those investors who are already in the UK and have invested large sums, as well as new arrivals.
Pipe says: "In a measure designed to attract the super-rich to the United Kingdom the government's announcement of a fast track to settlement for investors and entrepreneurs was described by the Border Agency as rolling out the red carpet to those who have the most to offer, but the more cynical amongst us may see it as the admission price to coalition Britain. If you're buying a premiership football club you're in on the fast track but if you're cooking the footie fan his takeaway you're out."
For those advising high value clients, says Pipe, "The door has swung wide open and the changes to Tier 1 will be most welcome. However those advising small businesses face a challenge with the combined restrictions of the cap, increase in the minimum English language requirement and the restriction to graduate-level occupations under Tier 2."

Abolition of the Certificate of Approval scheme
On 4th April 2011, Parliament approved the Remedial Order that will abolish the certificate of approval scheme. This means that the scheme will end on 9th May 2011. At present, any migrant who is already in the UK and is subject to immigration control must apply for a certificate of approval before they can get married or register a civil partnership (unless they are getting married within the Anglican Church).
Entering into a sham marriage does not entitle migrants to any right to remain in the UK. The UK Border Agency will continue to investigate suspected abuse and, where possible, disrupt marriages before they take place. If UKBA uncover marriages that are not genuine, UKBA will challenge them and prosecute where possible. The certificate of approval scheme remains in operation until the Remedial Order comes into force on 9th May. If you'd like to marry after 9th May, then you don't need to apply for the certificate of approval.
Question: I want to get married in a civil ceremony and I am subject to immigration control. When the scheme is abolished, will I still need to give notice of my marriage or civil partnership in a designated register office?
Answer: Yes. The requirement to give notice in a designated register office is not affected by the abolition of the certificate of approval scheme. The requirement will remain in force when the scheme is abolished.

Increase in Home Office fees
The Home Office usually review and implement new fees and application forms in April. Please clink here for a list of fees charged by UKBA.
Government outlines overhaul of student visas
Tougher entrance criteria, limits on work entitlements and the closure of the post-study work route, are among the changes to the student visa system announced by Home Secretary Theresa May on 22nd March 2011. Here are the main changes:

• From April 2012, any institution wanting to sponsor students will need to be classed as a Highly Trusted sponsor, and will need to become accredited by a statutory education inspection body by the end of 2012. The current system does not require this, and has allowed too many poor-quality colleges to become sponsors.

• Students coming to study at degree level will need to speak English at an 'upper intermediate' (B2) level, rather than the current 'lower intermediate' (B1) requirement.

• UK Border Agency staff will be able to refuse entry to students who cannot speak English without an interpreter, and who therefore clearly do not meet the minimum standard.

• Students at universities and publicly funded further education colleges will retain their current work rights, but all other students will have no right to work. The government will place restrictions on work placements in courses outside universities.

• Only postgraduate students at universities and government-sponsored students will be able to bring their dependants.

• UKBA will limit the overall time that can be spent on a student visa to 3 years at lower levels (as it is now) and 5 years at higher levels.

• UKBA will close the Tier 1 (Post-study work) route, which allows students 2 years to seek employment after their course ends. Only graduates who have an offer of a skilled job from a sponsoring employer under Tier 2 of the points-based system will be able to stay to work.
* Please note that the above article does not relate to nationals of the European Union.
Related articles:

Applying to study, visit, work or stay in UK? Be ready to pay more
Changes to student visa come into force
Life in UK Test is now mandatory for skilled, highly skilled migrants
Everything you want to know about abolition of COA scheme
For questions regarding the subject covered in this guide,
PLEASE REGISTER IN OUR FORUM and post your question under the appropriate category ('ENTERING THE UK').
Greenfield Solicitors will answer them regularly.
ALL COMMENTS WILL SHORTLY BE REMOVED!
Disclaimer: The above article is meant to be relied upon as an informative article and in no way constitutes legal advice. Information is offered for general information purposes only, based on the current law when the information was first displayed on this website.
You should always seek advice from an appropriately qualified solicitor on any specific legal enquiry. For legal advice regarding your case, please contact Greenfields Solicitors for a Consultation with a Solicitor on 020 8884 1166.